Kick-off by Microsoft France
On septembre 22nd, 2020 and for the Microst France's kick-off, our phygital studio welcomed Carlo Purassanta (CEO Microsoft France) and at his side, two members of the LT team. For the first time in Microsoft's history, the conference was broadcast digitally thanks to the implementation of a livestream. The conference was held in the HOPSCOTCH offices and more precisely in the agency's digital studio.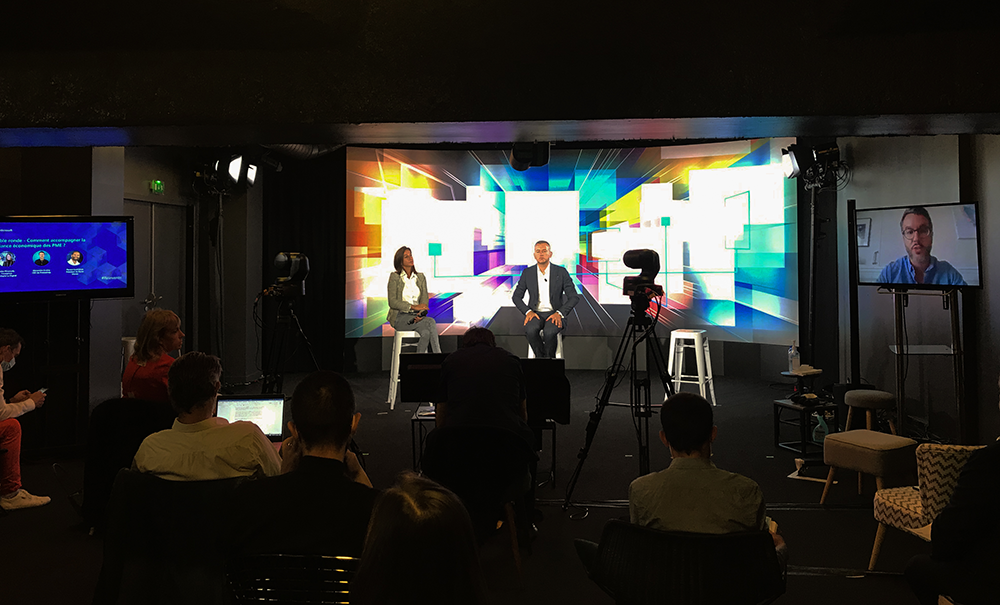 It is with a 100% digital device that the conference was viewed approximately 170,000 times through the various platforms (Teams, Periscope, Linkedin) made available to the public, including a panel of journalists and influencers. The French regions, (Lyon and Toulouse), demonstrating Microsoft's regional anchoring, were present in multiplex.
To introduce the conference, Carlo Purassanta introduced his new team before starting the conference, which was based on 3 themes – growth, confidence and capacity. Three round tables were organised and addressed different topics: technology, education and the economy, confirming the 360 approach of the Microsoft ecosystem, always inclined to innovation.
Kick-off Microsoft 2020 in figures :
13 interviews during the conference
24 journalists and influencers were connected live
A rate of 90,000 impressions, an increase of 79% compared to the January conference, as well as a printing rate of 3.25 M on twitter.
Hopscotch PR supported Microsoft in the realisation of the kick-off conference as well as its post-launch follow-up.
Thanks to the teams of Microsoft France for their trust and to the teams of HOPSCOTCH PR for their support.