HOPSCOTCH and SOPEXA join forces to create the first integrated international network of Global PR, based in Paris.
Furthermore, on 30 April 2019, HOPSCOTCH strengthened its presence in the operational management of SOPEXA by appointing two representatives in a renewed management board, taking on the role of chair.
"With more than 700 permanent employees worldwide, annual sales of €210m and a gross margin of €78m, this new group became the number one integrated international network of Global PR, based in Paris," explained Pierre-Franck Moley, chairman of the SOPEXA management board and managing director of HOPSCOTCH.
The merger between the two entities has already produced results: in 2018, they carried out some joint actions. A particular case is point was the most recent Barilla Pasta World Championship, whose concept, media relations and influencers were managed by HOPSCOTCH / SOPEXA cross-teams. Another example of successful collaboration is the creation of the Fondation pour l'innovation et la transmission du goût (Foundation for innovation and the transmission of taste), which supports and funds original projects so everyone can access healthy, enjoyable and high-quality food.
While respecting the DNA of SOPEXA, Food, Drinks & Lifestyle agency, expert in influence and trade marketing, HOPSCOTCH will develop operational synergies aimed at supporting its customers and conquering new ones internationally, by exploiting the fabric of the 30 global agencies providing them with its wealth of know-how.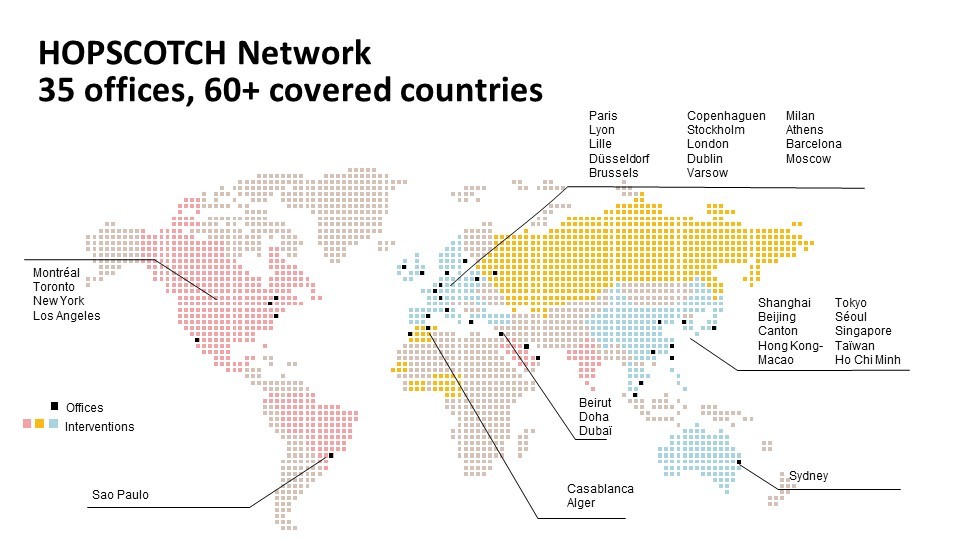 "We are very happy to be able to capitalise even more on the joint forces of HOPSCOTCH and SOPEXA. Together, as a result, we cover all essential economic sectors (tech, automotive, luxury, banking/insurance, industry, healthcare, food, etc.) and all communication activities, from digital to events, including public relations & shopper experience," explained Frédéric Bedin, chairman of the HOPSCOTCH management board.

The HOPSCOTCH network already has an international presence, particularly in Europe, through its subsidiaries in France and Dublin, in Africa and, more recently, in the Middle East, and now can now work closely in more than 60 countries around the world.