HOPSCOTCH Sport x ADAGIO and Eric Péron for the Arkea Ultim Challenge – Brest.
HOPSCOTCH Sport, Through its Subsidiary Sport&Co, Initiates Partnership Between ADAGIO and Eric Péron During the Arkea Ultim Challenge – Brest.
ADAGIO, the European leader in aparthotels, announces the signing of a strategic partnership with sailor Eric PERON, on the occasion of a brand-new sporting event called the Arkea Ultim Challenge. It marks the first solo round-the-world maxi-trimaran race. The partnership was initiated by Sport&Co, a sports marketing agency and subsidiary of Hopscotch Sport.
ADAGIO will be the title partner of this giant of the seas, leased to Ultim Sailing. French Touch Oceans Club, Eric's long-standing partner club, is also backing the project.
L'Arkea Ultim Challenge – Brest, a round-the-world voyage from West to East, via the three capes (Good Hope, Leeuwin, and Horn), represents a real human and technological challenge for Eric PERON, who will be up against five other world-renowned sailors.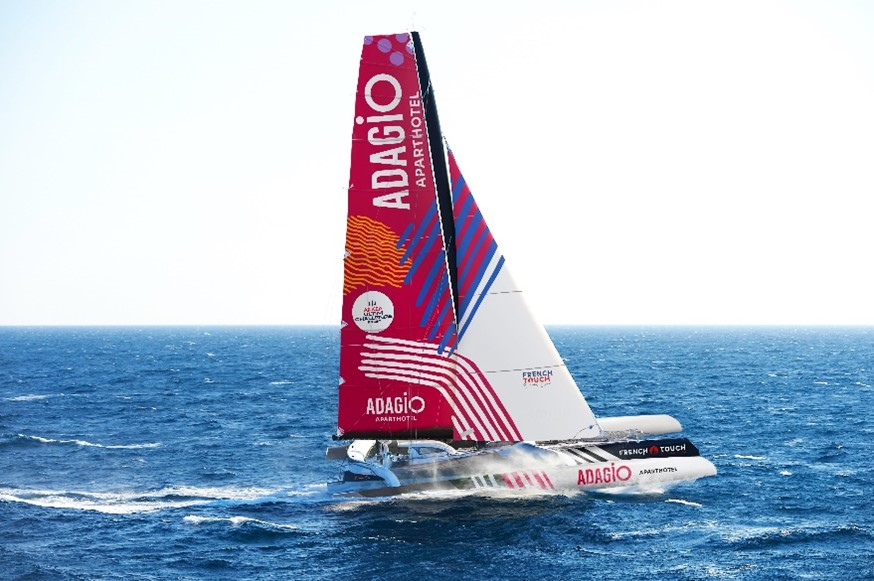 The start of this global event will be given on January 7 in Brest.
This collaboration illustrates not only ADAGIO's desire to commit to daring projects to develop its reputation, but also its ambition to explore and support human and entrepreneurial adventures with a strong local impact.
Making a difference, offering unique moments of exchange and exceptional experiences, creating emotion and giving meaning to the collective are all affinities that have brought together the adventurer and his new sponsor.
Ocean racing embodies values that are dear to the aparthotels brand: boldness, innovation, responsibility, ambition, performance, a taste for commitment and surpassing oneself, as well as team spirit, teamwork, and sharing.
The Finistère native's authentic personality, passion for travel, and determination to push back the limits immediately won over the ADAGIO teams.
Eric PERON commented: "I'm very happy and proud that ADAGIO has chosen to take up this challenge alongside me, it's excellent news! I've had this project of taking part in the Arkea Ultim Challenge Brest in mind for a long time; we dared to launch it last winter with French Touch Oceans Club, my partner club for the past five years. To have ADAGIO's trust, for whom this will be their first experience of ocean racing, is an immense privilege. Taking part in this very first single-handed round-the-world race aboard an Ultim is no mean feat, and I know I'll be supported by ADAGIO and all the staff. I'm looking forward to flying their colors and sharing great moments with them throughout this incredible adventure."
Virginie Barboux, Senior Vice President Customer and Marketing at ADAGIO, adds: "ADAGIO is at a structural and ambitious stage in its development. We were looking for a differentiating and innovative sports project with which to associate ourselves to strengthen ADAGIO's reputation and embody our values of Audacity, Sharing, and Responsibility. Our meeting with Eric and his team convinced us that taking part in this unique and exceptional single-handed ocean race would enable us to promote our brand in the best possible way, and to experience an extraordinary individual and collective human adventure. Eric will benefit from the support of the 129 aparthotels in our network and its 1,200 committed employees".
About ADAGIO
ADAGIO is Europe's leading apartment hotel company. Created in France in 2007 as a joint venture between Accor and Pierre & Vacances Center Parcs, ADAGIO now has 129 sites and 14,071 apartments in 16 countries. It is the largest network of apartment hotels in Europe.
Combining the flexibility of an apartment with the services of a hotel, ADAGIO aparthotels are the best solution for medium and long stays, offering the best value for money to business travelers, vacationers and those who like to be both.
Located in urban areas, ADAGIO aparthotels come in three ranges: ADAGIO Original, in the heart of major cities; ADAGIO Access, in the center of regional capitals or on the outskirts of major cities; and ADAGIO Premium, luxury aparthotels.
About Eric PERON
Eric PERON honed his skills in the Olympics, before moving on to the highly demanding Figaro Bénéteau circuit, where he made a name for himself. He completed no fewer than 19 transatlantic races and 10 Solitaire du Figaro. Recognized for his skills, he took part in numerous multihull and monohull races, gaining considerable experience in the process.
An all-round crewman, very comfortable offshore, he was called upon to take part in the Volvo Ocean Race with the Franco-Chinese crew of Dongfeng Race Team: a mythical, long, and tough 9-month round-the-world race against the world's best ocean sailors.
In 2022, he completed his first Route du Rhum in 4th place in the Ocean Fifty category.
Sailing on and on, higher, further, stronger. At the age of 42, Eric now has the necessary baggage to be one of the pioneers who will take part in the first solo round-the-world Ultim race.