La REF 2021, an XXL format dedicated to Freedom and the economic Francophonie
La REF or Meeting of French Entrepreneurs, a political and economic event not to be missed this fall, organized by the MEDEF and Hopscotch Event, was held for this new XXL edition over three days, from August 24 to 26, at the Paris Longchamp Hippodrome. This year's edition, "A l'air libre" (In open air), included a day dedicated to the economic "Francophonie" and was placed under the theme of Freedom.
The economic "Francophonie" 
To launch this 2021 edition, the meeting of French-speaking entrepreneurs took place on August 24 and 25. A novelty including a series of debates and round tables discussions  around the French-speaking countries, their growth and their economies by addressing topics such as industry, ecological transition, business financing or professional training.
See or review the #LaREF21 Francophonie interventions: #LaREF21 Francophonie – YouTube
"In open air"
The next two days of La REF were designed to discuss freedom from different angles and current and varied issues such as: secularism, business ethics, mobility, international exchanges, woke culture in business, women's freedom, climate change, the media, the economy, the crisis of Covid-19, security, social networks, creation and innovation, technology.
At the heart of the debates, conversations and round tables discussions during these three days, a reflection on Freedom, its definition in society and business and its stake in the current world to try to better understand our world in full mutation.
Also, the presence of the Olympic champions of Tokyo 2021, sports leaders and athletes who gave their impressions on their experiences. They also shared their doubts and hopes in preparation for the Paris 2024 Olympic Games.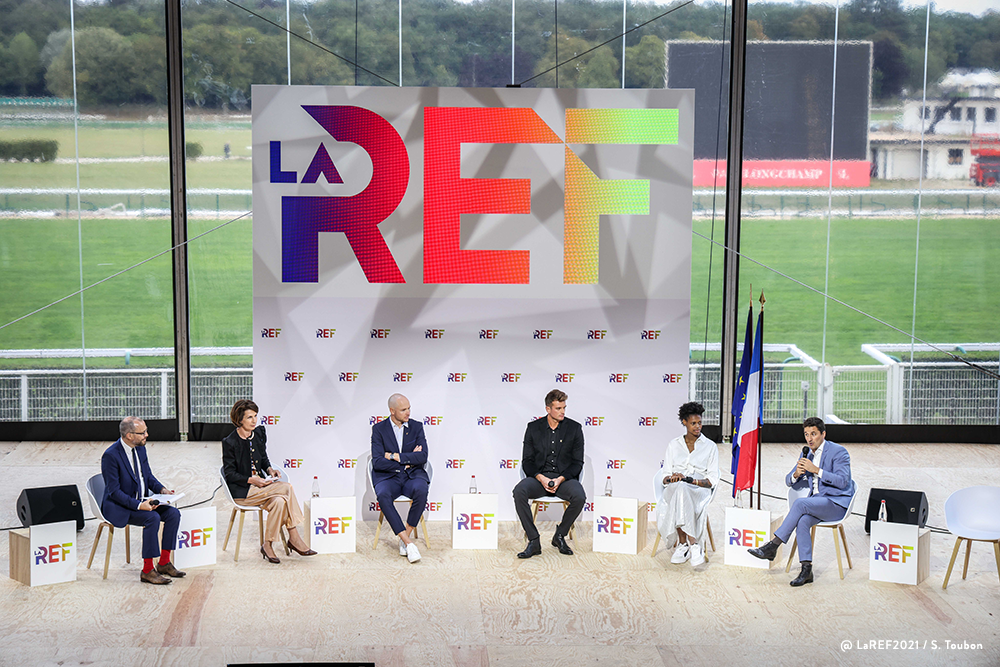 See or rewatch the #LaREF21 interventions: #LaREF21 – YouTube
Review of the event:
15+ Hours of airtime produced on the REF TV set
22 Ministers present
30+ Hours of debates: 12H for REFranco and 18H30 for REF Freedom
33 Countries represented
40 Round tables discussions and speeches
55 Sides events
61 Partner spaces
90+ Business leaders on stage
200+ Speakers
350+ Journalists
8000+ Participants
The Hopscotch teams thank the MEDEF for their trust once again in 2021. See you in 2022 for the next edition!